June 2, 2016
From niagarathisweek.com/community-story/6703981-shining-a-light-on-st-catharines-s-emerging-artists/:
"Shining a light on St. Catharines's emerging artists: Arts Awards coming June 4
Niagara This Week
By Melinda Cheevers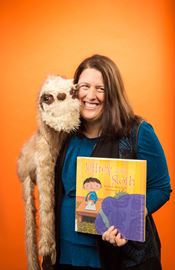 Kari-Lynn Winters
Photo by Brad Moore
Kari-Lynn Winters is one of five artists nominated in the Emerging Artist Award category of the St. Catharines Arts Awards.
ST. CATHARINES — If Kari-Lynn Winters wasn't able to write, she just wouldn't feel right.
"I'm so passionate about it. I couldn't not write," said the children's author. "My mind doesn't feel right if I'm not writing."
That's why every morning, before her kids get up and before she has to head off to work as an
associate professor teaching drama and education at Brock University, she spends three hours writing. She's been doing that for 10 years, since before she published her first illustrated book for children. Now, 16 published books later, she keeps up with the habit.
"It's all about discipline," she said.
It's not just children's books she publishes, Winters is also a playwright. She finds joy in creating new worlds and telling unique stories in interesting ways. A teacher at heart, she tries to infuse educational elements in all of her work — like her book of poetry Hungry for Math: Poems to Munch On and the informational interactive activity book Bite Into Bloodsuckers, all about insects.
Winters is one of five St. Catharines artists nominated in the emerging artist category, recognizing and celebrating their current accomplishments and their future potential. While the artists are all varied in their approach, the one thing they have in common is passion. While Winters is an author and playwright, the other four nominees are all musicians: folk singer songwriter Whitney Pea has been performing across the region and beyond as part of a full band and as a solo artist, Beth Moore's music makes regular appearances on CBC Radio as she carves out a career for herself on the national stage, Charlotte Knight is making a name for herself in Canada's opera scene with regular musical theatre performances, and Aaron Berger incorporates his inspiring story of overcoming mental health challenges into his musical performances.
Berger, Moore and Knight will all be performing during the award ceremony, along with a performance by NSO Music Director and established artist award nominee Bradley Thachuk with members of the Niagara Symphony Orchestra.
In total, 19 artists are up for awards in five categories. In addition to Emerging Artist, other awards handed out that night will include Established Artist, Arts in Education, Making a Difference, and Patron of the Arts. Past Arts Award recipients Deb Slade and Mike Enns will be the emcees at the event.
The awards will be handed out Saturday night during a ceremony taking place at Cairns Recital Hall in the FirstOntario Performing Arts Centre. The event kicks off at 8 p.m. Tickets for the evening are still available for purchase.
They are $12 in advance or $17 on event day, plus applicable fees and taxes. Tickets are available through the FirstOntario Performing Arts Centre Box Office online at firstontarioPAC.ca or by calling 1-855-515-0722.
Following the awards event, there will be an after party at Mahtay Cafe and Lounge on St. Paul Street.
For more information on the St. Catharines Arts Awards, visit www.stcatharines.ca/artsawards.